Thursday, August 6, 2020, 5:30 (CDT), Book Talk, a free virtual event sponsored by the American Civil War Museum. I will be in conversation with Kimberly Hamlin about women's suffrage and the Civil War.
Click here for registration details.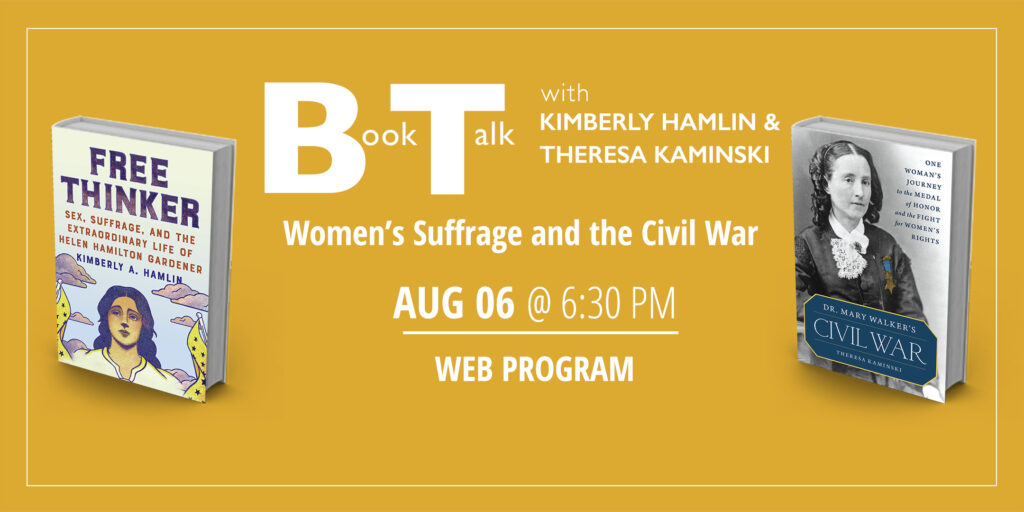 Tuesday, June 23, 2020, 6:30 p.m. (CDT), a free virtual event with the Driftless Historium and Mount Horeb Area Historical Society
Dr. Mary Walker: Surgeon and Suffragist
Click here for registration details.
Book Launch: June 1, 2020
Join me in the Nonfiction Fans group on Facebook starting June 1 for a Q & A in which Pamela Toler asks me about Dr. Mary Walker and the process of writing the biography of a not-so-famous woman.
My latest book, Dr. Mary Walker's Civil War, is now available for preorder. It will be published in June 2020. Many thanks to Karen Abbott for this very generous endorsement.
A huge thank you to all of the very enthusiastic people who turned out for this event:
Monday, March 25, 2019, 6:00-8:00 p.m.
Waupaca Area Public Library, 107 S. Main Street, Waupaca, WI
Dale Evans: Queen of the West
Celebrate Women's History Month with Theresa Kaminski, Ph.D., professor emerita of history from the University of Wisconsin-Stevens Point.
Dale Evans (1912-2001) was one of the most beloved stars of the mid-20th century. She co-starred with Roy Rogers, her future husband, in a series of "singing cowboy" movies during the 1940s. They made the move to television in the early 1950s, creating The Roy Rogers Show, one of the most popular programs of the decade. Dale, an accomplished vocalist and songwriter, penned the show's theme, "Happy Trails." But exactly how happy were those trails? What did fame cost Dale Evans? This program, complete with music and movie and t.v. clips, provides a behind-the-scenes look at Dale's private life and professional career.
Reported on August 15, 2018, in Publishers Marketplace:
History Professor and author of ANGELS OF THE UNDERGROUND: The American Women who Resisted the Japanese in the Philippines in WWII Theresa Kaminski Ph.D's QUEEN OF THE WEST: DALE EVANS, MUSIC, MOVIES, TELEVISION, AND THE CREATION OF MODERN CELEBRITY, the first full-length biography of this mid-twentieth century multi-faceted star Dale Evans, following her career from small-town girl and radio singer to movie stardom with her life and screen partner Roy Rogers, to Rick Rinehart at Lyons Press, in a nice deal, for publication in 2020, by Jacqueline Flynn at Joelle Delbourgo Associates (world English). Film & TV, Audio, Translation
On Saturday, May 19, 2018 at 2:00 p.m. I spoke at the Driftless Historium, 100 S. 2nd Street, in Mount Horeb, Wisconsin to kick off its series commemorating the 100th anniversary of the World War I armistice.
From Home Front to Western Front: Women in WWI 
What did the First World War mean to American women? How did they respond as loyal citizens at a time when they didn't even have the right to vote? Find out about the women who shored up home front support and the ones who braved German u-boats to cross the Atlantic to work in England and France as journalists, nurses, telephone operators, and entertainers.
For additional information, click here.
Sunday, September 10, 2017
Kerrytown BookFest, Ann Arbor, MI
At 11:00 a.m. I'll be in the Main Tent with Laurel Huber Davis, Greer Macallister, and Pamela Toler talking about "Women in History" in fiction and nonfiction. Barbara Mhangami-Ruwende will moderate.
Here's more information about BookFest.
Thursday, March 30, 2017
University of Wisconsin-Stevens Point Library at 5:00 p.m.
Mark the end of Women's History Month with my talk about the value of the month-long celebration in highlighting the lives of little-known, ordinary women. I'll discuss the women of Angels of the Underground. There will be a book giveaway!
Thanks to the 90 people who ventured out on a foggy, rainy Monday night to hear about Angels of the Underground.
Monday, March 6, 2017 at 6:30 p.m.
Waupaca Public Library, 107 South Main Street, Waupaca, WI
The Winchester Academy is hosting my presentation on "Angels of the Underground." Get there early for coffee and cookies at 6:00 p.m. Pick up a free bookmark and stick around for a chance to win a copy of my book.
If you missed the C-SPAN3 broadcast on Sunday, you can watch my talk at your leisure here:
https://www.c-span.org/video/?411781-4/us-women-spies-philippines-world-war-ii
Sunday, Sept. 4 at 7:00 p.m. ET and 11:00 p.m. ET, C-SPAN3's American History TV
will air the talk I gave on July 23 about Angels of the Underground at the World War II symposium at the MacArthur Memorial in Norfolk, Virginia.
A big thanks to everyone who came out to listen to my conversation with Doug Moe, to the audience members who asked all of the great questions, and to Joanne for providing the time and the space.

June 16 at 7:00 p.m. Mystery to Me, 1863 Monroe Street,  Madison, WI.
Journalist Doug Moe will interview me about
Please come and join the conversation. This will be a special week for Mystery to Me, which will be celebrating its third anniversary.
You can read more about the June 16 event here.
Thanks to everyone who came out for this, my first event for Angels of the Underground. On Monday, March 21, I'm speaking at 6:00 on the campus of Northern Michigan University in beautiful Marquette, Michigan. In celebration of Women's History Month, I will talk about the daring women who appear in Angels of the Underground, including the glamorous Manila nightclub singer, Claire Phillips.
The Midwest Independent Booksellers Association listed
as one of its January 2016 Midwest Connections Picks .