We're at the penultimate installment of this weekly series that reveals the first sentence of each chapter in Queen of the West: The Life and Times of Dale Evans. The book's official launch date is April 15, but if you order it online now, chances are good that you'll receive your copy before then!
Chapter Eleven. "The Bible Tells Me So": Creating Christian Celebrity
Dale Evans resumed work almost immediately when she and Roy Rogers returned from Great Britain in late March 1954. 
That overseas trip had not been a vacation. During February and March, the couple performed in England and Scotland, attracting huge audiences, then appeared with the Billy Graham Crusade in London. The Roy Rogers Show, about midway through its run, remained popular with television viewers, but Dale, now back stateside, was increasingly attracted to projects that carried a more overt Christian message. In 1955, she demonstrated that interest by writing the song "The Bible Tells Me So" for an episode of The Roy Rogers Show. The song caught on, and two versions of it hit the Billboard charts. Children would sing it in Sunday school classes for decades to come.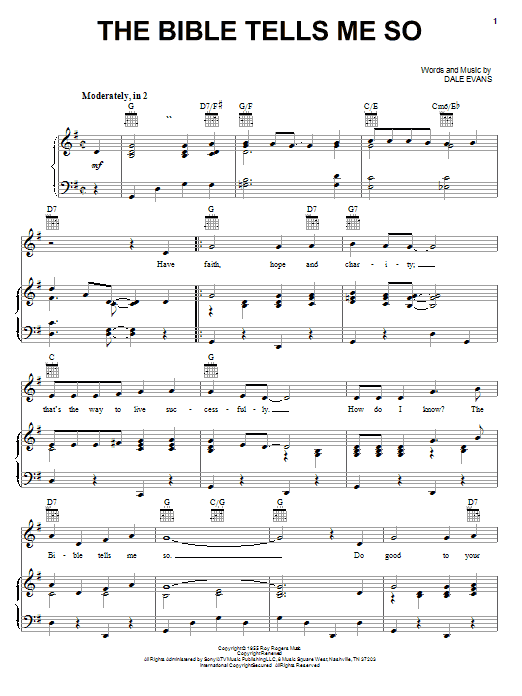 Chapter Twelve. "I'd Rather Have Jesus": Professional and Personal Struggles During the 1960s
Frustrated with trying to create an adult, family-friendly western, Dale Evans and Roy Rogers turned to another small-screen genre: musical variety.
The Roy Rogers Show ended in 1957. Despite the couple's continuing popularity, they had difficulty landing another network show. It wasn't until 1962 that they signed a deal with ABC for a prime time musical variety program called The Roy Rogers and Dale Evans Show. After working with Roy for almost twenty years, Dale finally received equal billing.
Thanks for sticking with this series. See you next week for the wrap-up!