In 1863, Dr. Mary Walker, who donated her medical expertise to the US army during the Civil War since it would not commission her because she was a woman, wrote in an article for the women's rights journal, The Sibyl:
"Not until this 'cruel war' has ceased, and peace shall again be ours, and a dozen histories be written containing all the facts and events that each historian shall have collected, and the noble women from all be compiled, not, I say, until then shall the world know how much women have done."
(Drexel University, College of Medicine, Archives and Special Collections)
Mary Walker understood the importance of history, and she understood the difficulties women faced in getting their voices heard. She encountered gender discrimination her entire life because of her choice in fashion, her decision to become a doctor, and her dedication to the women's suffrage movement. If the world did not know how much women did during the Civil War and acknowledge their contributions, nothing would change, women would never achieve equality.
I thought about Dr. Walker this morning as I came across a link to a Washington Post article in my Twitter feed. Joe Heim reported about a photo display in the National Archives meant to honor the centennial of women's suffrage. One picture, taken at the 2017 Women's March by Getty photographer Mario Tama, had been altered, blurring out the name of the current POTUS and the words vagina and pussy.
The voices of the women involved in that protest had been erased, their concerns–and their anger–blotted out.
Why? Heim quoted from an email from the spokesperson for the National Archives, Miriam Kleiman: "As a non-partisan, non-political federal agency, we blurred references to the President's name on some posters, so as not to engage in current political controversy." Vagina and pussy received the same treatment out of concerns that the words could be viewed as "inappropriate" for students and other young people visiting the Archives.
Historians were quick to level criticism, rejecting Kleiman's distinction that "In this case, the image is part of a promotional display, not an artifact." Purdue University's Wendy Kline pointed out, "Doctoring a commemorative photograph buys right into the notion that it's okay to silence women's voice and actions."
In 2020, one hundred years after women got the right to vote–which was supposed to reinforce their equality of citizenship–women still have to fight against this erasure.
Karin Wulf, from the College of William and Mary, made another important observation. "The Archives has always been self-conscious about its responsibility to educate about source material, and in this case they could have said, or should have said, 'We edited this image in the following way for the following reasons.' " She also posted an insightful Twitter thread on the matter.
To its credit, the National Archives took these concerns and criticisms seriously. In a matter of hours, it admitted, "We made a mistake," and apologized.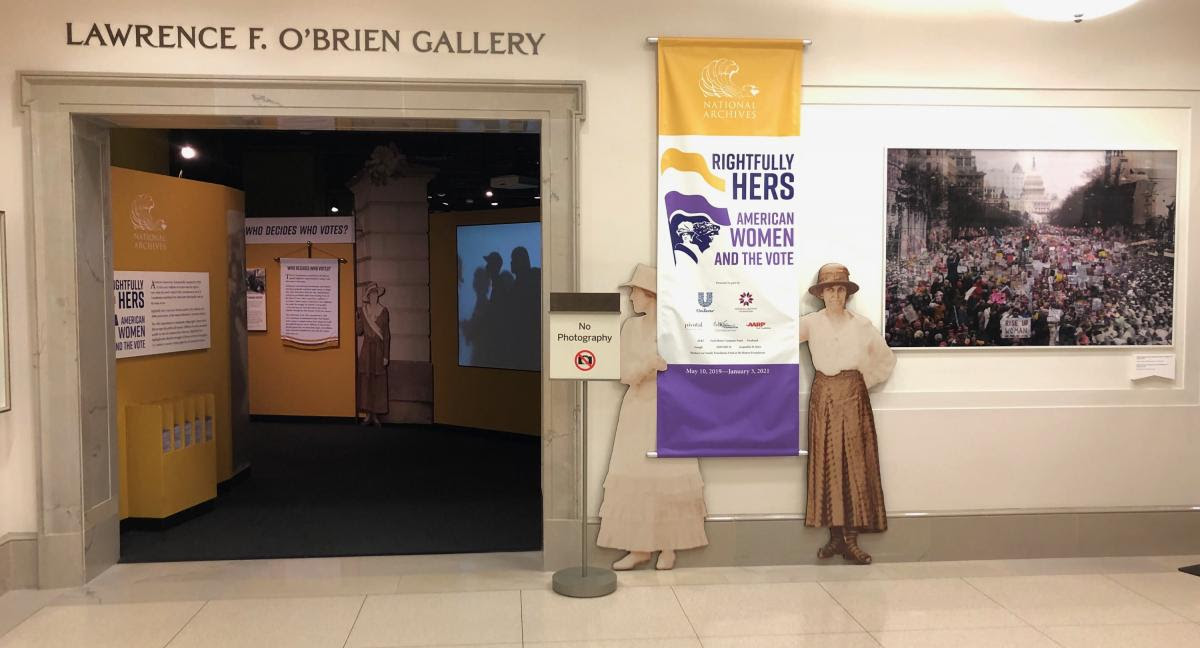 (John Valceanu photo)
It is a good apology, timely and sincere. The image was taken down. The Archives will review its policies.
Leaving that image in place would have validated the notion that it is okay to blur or leave out things that we disagree with or make us uncomfortable. And that is not the way to preserve history. (It is surprising that anyone at the National Archives, which the United States entrusts with its historical documents, thought this was okay. It knows it has to do better.)
And once again, women are confronted with how casually their voices can be erased from the historical record.
Dr. Mary Walker would be appalled, but not surprised.