This story of fashion and politics could start in at least two different places.
One is in southwestern Wisconsin, where my husband and I lived for a few years as we both transitioned from the final years of our careers into retirement. Not far from our house was one of my favorite places, The Shoe Box, which advertises itself as the "Midwest's Largest Shoe Store."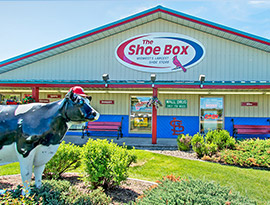 I tried not to spend all my free time there.
On one shopping excursion, I spotted a pair of Western boots by Dingo in a lovely shade of red. I already owned a pair in a more sedate brown color. I already owned a pair of cold weather boots in red. But I had nothing in this wonderful combination.
Still, I didn't need them. I was teaching then and knew they didn't fit with the rest of my work wardrobe. They were a luxury. But my husband saw me looking at them. On my next birthday, he handed me a big box. I pulled out the boots.
They became my special occasion boots. I also wore them whenever I needed a psychological boost, whether at work or elsewhere. For some people, it's a suit or a certain shade of lipstick that makes a statement, that gives them the extra oomph. For me, it's footwear.
The other place this story could start is in Japan in 2003, long before I owned the boots. I had the incredible good fortune of participating in the Japan Residencies Program, sponsored by the Japan-United States Friendship Commission, the Organization of American Historians, and the Japanese Association for American Studies. I spent two weeks giving lectures on American women's history at Chiba University and another week presenting public talks.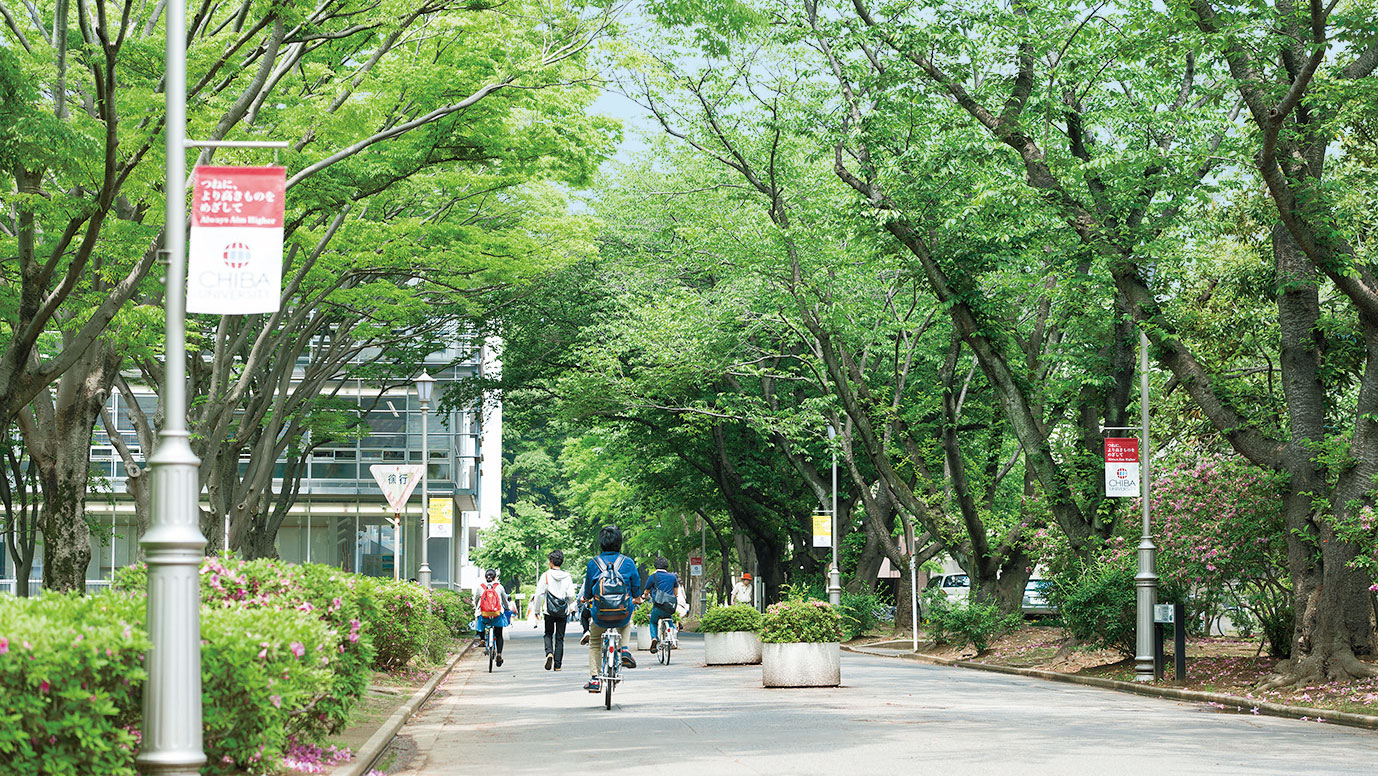 One of the questions that came up a lot concerned Hillary Clinton, former First Lady and, in 2003, senator from New York. Did I think she would run for president?
I said I believed she would. But she wouldn't win. Not that I didn't want to see Clinton in the White House, but because enough other American voters would cast their ballots against her. I said I didn't think there would be a woman president of the United States in my lifetime. Misogyny runs too deep.
In 2008, Hillary Clinton made her first run for the presidency but ultimately failed to secure the nomination from the Democratic Party. It went to Barack Obama, who became the country's first black president and served two terms. Clinton supported Obama during his campaign and his presidency. She served as his secretary of state from 2009 to 2013.
Three years later, the Democratic Party chose Hillary Clinton as its candidate for president. She was eminently qualified, by virtue of her law degree and legal career and her long years of public service. On the campaign trail, she demonstrated a preference for slacks and matching blazers, a sartorial choice that launched a Pantsuit Nation of activist, liberal women.
The Republican Party selected a businessman and television reality program host who never held office. He claimed early in his campaign, "I could stand in the middle of 5th Avenue and shoot somebody and I wouldn't lose voters."
For me, the choice was clear from the beginning. As election day 2016 came closer, though, I grew uneasy. Misogyny has deep roots. It's tenacious. I wasn't sure Hillary Clinton could overcome that, despite her accomplishments. I tried to take comfort from the many pollsters who predicted a clear victory for her. I tried to hope just a little bit.
On election morning, I pulled on my red Western boots. I decided it was a day for hope and power. "I'm With Her" and "Stronger Together" were my slogans for the day. I started to imagine walking into my women's history class the next morning, once again wearing the red boots, to talk with students about this history-making moment.
As more of the election results came in that night, I thought back to those discussions in Japan. I realized my initial beliefs had been correct. I took off my boots, tucked them in the back of the closet, and went to bed.
The next morning, I learned I'd been right–and wrong. Hillary Clinton won nearly 66 million votes, almost 3 million more than her opponent. So I'd been wrong about the popular vote, which clearly went to Clinton. But the electoral college swung the other way, and the election went to her Republican challenger.
Hillary Clinton delivered her concession speech the day after the election. "Our campaign was never about one person or even one election, it was about the country we love and about building an America that's hopeful, inclusive and big-hearted," she said. "Donald Trump is going to be our president. We owe him an open mind and the chance to lead."
The red Western boots were not exiled for the next four years. I took them out of the closet many time to wear on special occasions, including elections.
In 2020, because of the pandemic, I opted to vote by mail rather than in person. I wore my slippers instead of the red boots when I filled out the ballot. There was a bright spot. This time, finally, a woman's name was on it once again: Kamala Harris, senator from California. It was groundbreaking not because the Democratic presidential candidate, Joe Biden, chose a woman as his vice presidential running mate, but because Harris is a woman of color.
Again, I allowed myself a bit of optimism but prepared for a difficult election season.
What followed was unprecedented. The Biden-Harris ticket won a clear victory, and the sitting president encouraged his supporters to contest the election results. A deadly, failed insurrection occurred at the Capitol. But today, two weeks later, the inauguration took place on schedule. Supreme Court associate justice Sonia Sotomayor, the first Latina to sit on the court, swore in Kamala Harris as vice president.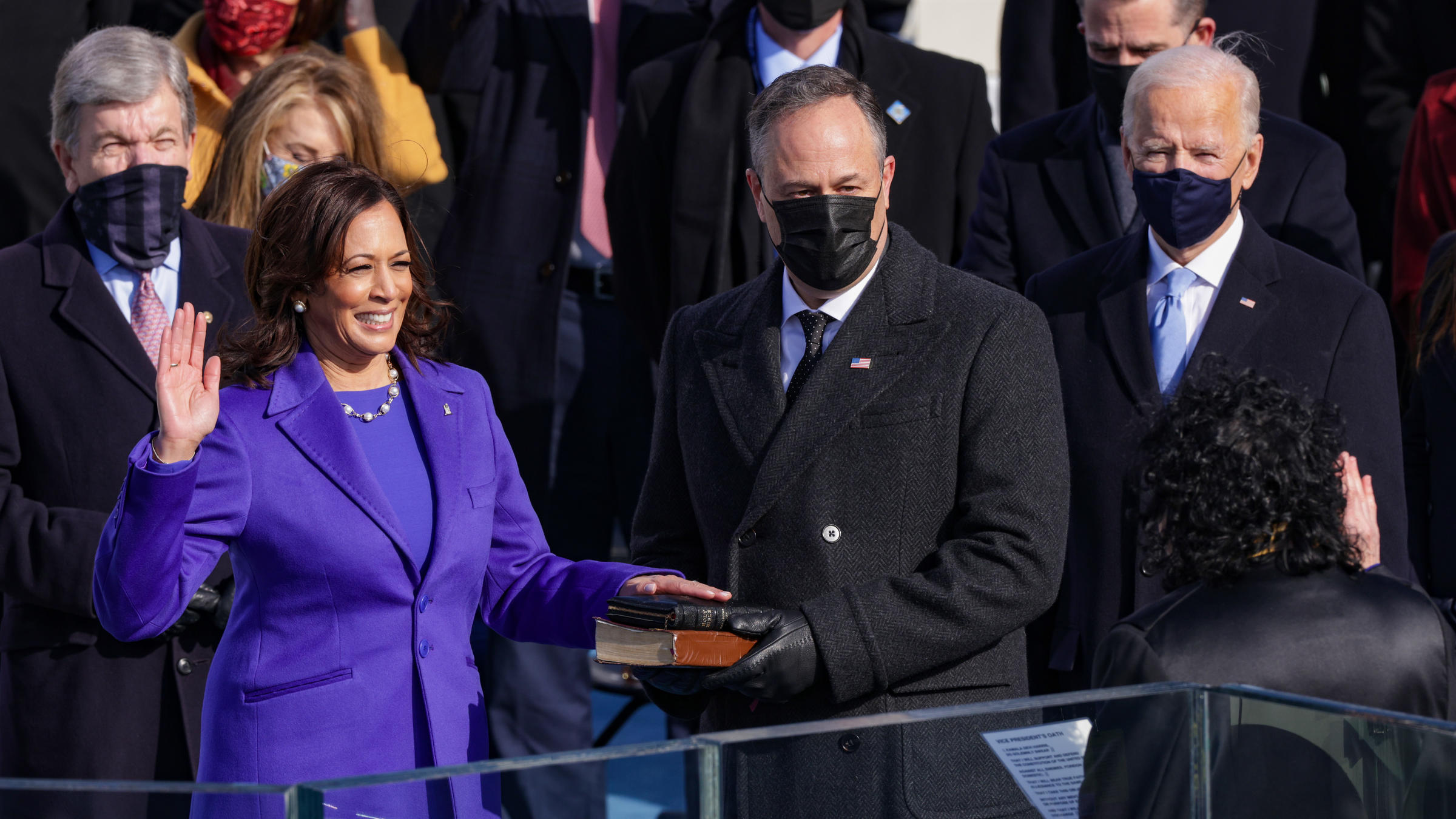 Harris's stunning purple dress and coat ensemble came from black designers Christopher John Rogers and Sergio Hudson. The color choice signals bipartisan support–a blending of Republican red and Democratic blue. It also has historical significance. It is a nod to women's suffragists who adopted purple as one of their official colors more than a hundred years ago, and it's an homage to Shirley Chisholm, the first black woman to run for president. The outfit looks like power.
It was a historic day. A great day for the red boots, even if I could only wear them around the house.
Sources:
https://www.cnn.com/2016/01/23/politics/donald-trump-shoot-somebody-support/index.html
https://projects.fivethirtyeight.com/2016-election-forecast/
https://www.270towin.com/2016-election-forecast-predictions/
https://www.npr.org/2016/08/08/489138602/trump-comment-gives-clinton-a-campaign-slogan-with-layered-meaning
https://www.270towin.com/2016_Election/
https://www.cnn.com/2016/11/09/politics/hillary-clinton-concession-speech/index.html
Emily Rekstis, "Kamala Harris Wears 2 Black American Designers to the 2021 Inauguration — All the Details on Her Look," Usmagazine.com