Chapter Five. The Cowboy and the Senorita: Rising Star at Republic Pictures
In a fit of pique, Dale Evans severed her relationship with Art Rush and signed with Danny Winkler, a friend of Joe Rivkin and an agent long associated with Myron Selznick's firm.
(Dale Evans c. 1942)
Dale had not even been in Hollywood for a year and a half, and she was already on her third agent. Losing Joe Rivkin, who brought her out there in the first place, had been out of her control. With the United States at war, Rivkin signed up for military service. He recommended that Dale talk to Art Rush about representation. Rush had worked for RCA Victor Records before opening his own talent agency in 1939, with some high-profile singers/actors signing on.
(Hollywood Canteen on Vine Street, 1942)
Though Dale Evans and Art Rush initially worked well together, it only took a few months for her to conclude that he was not paying adequate attention to her career. She accused him of spending all his time promoting his favorite client, his rising star, the singing cowboy Roy Rogers. Dale had nothing against Roy. Rush had introduced the two of them when they both appeared at an Army air base in California to perform for the troops. Dale liked Roy, found him "a very real person." But she had no intention of playing second fiddle to him with Art Rush. So Dale fired Rush and moved on to her third agent.
In early 1943, Danny Winkler arranged an audition at Republic Pictures. Dale Evans wowed everyone at the small studio, and she was hired. Ironically, Roy Rogers was also under contract there, one of the studio's biggest "B"-movie stars. And in another twist, Dale's career at Republic did not really take off until she was featured in 1944's The Cowboy and the Senorita–with Roy Rogers.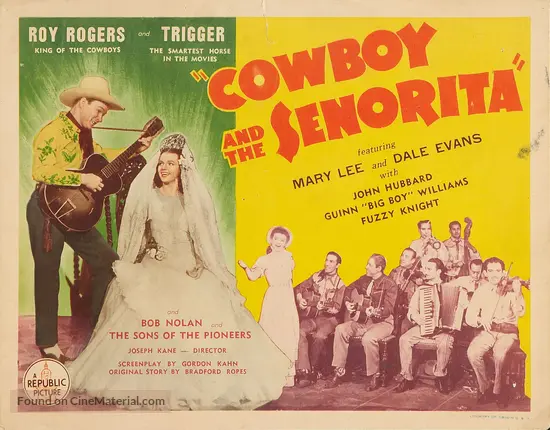 This was not what Dale Evans envisioned for her Hollywood stardom. She had to figure out what to do about it.